Dr. Knaub is a member of the American Academy of Facial Aesthetics. With his knowledge and expertise, he is able to help patients achieve the smile they've always wanted. Whether you suffer from headaches, want to hide a "gummy" smile, struggle with TMD, or would like to take advantage of dermal fillers for more youthful skin, he will walk you through your options and administer a treatment that will fit your needs.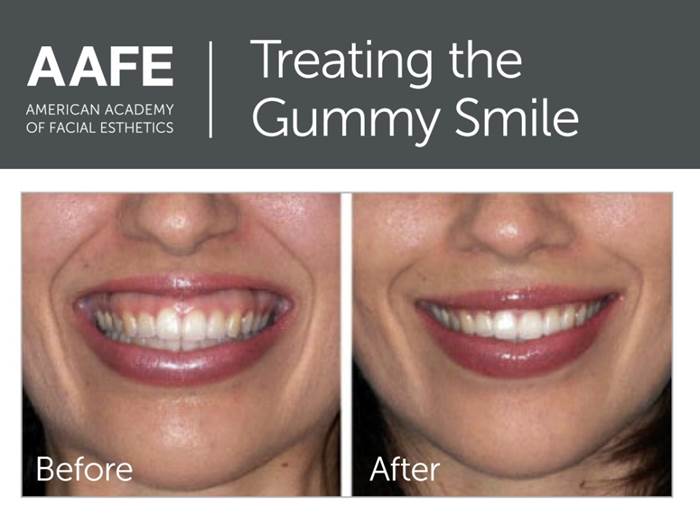 BOTOX As A TMJ Treatment
BOTOX® is used as an alternative treatment for TMJ (temporo-mandibular joint) disorders and associated jaw tension and pain. When injected into facial muscles afflicted with soreness and discomfort, BOTOX® relieves TMJ and jaw tension for many patients. The injections often eliminate headaches resulting from teeth grinding, and, in cases of severe stress, BOTOX® can even minimize lockjaw.
If Dr. Knaub determines that you are a candidate for this treatment, your specific diagnosis and the severity of your condition will dictate how much Botox you will require.  BOTOX® treatment typically takes just a few minutes, but the effects of treatment last for approximately 3 months.
Fixing a "Gummy" Smile
Do you ever wonder if there's a way to fix your "gummy smile"? Or do you know someone who hides their smile due to this? A  "gummy smile" is caused by a hyperactive top lip that tenses too much during smiling, thus exposing much of the top section of gums. Botox can help reduce this significantly, giving you or someone you know that smile they have always wanted. Dr. Troy Knaub is a member of the American Academy of Facial Aesthetics, and can talk to you today about helping you get that smile you've always dreamed of!

Dermal Fillers
If you are looking for a non- surgical face lift or just want to smooth out a few fine lines or fill in deep set wrinkles, injectables are for you. Millions of people use dermal fillers to achieve a more relaxed and smooth facial appearance while still enjoying their freedom of expression. Dermal fillers are smooth, injectable gels made from naturally occurring hyaluronic acid. Dermal fillers add volume to weakened facial features and can stimulate collagen growth.  They plump skin and gently lift it to restore collagen loss due to the normal aging process. Dermal fillers also motivate the body to create its own natural collagen and restore your face to a more natural, youthful appearance.  Dermal fillers approved by the FDA are minimally invasive and very safe. As with any procedure, there are possible risks, the most common being post-procedure bruising and swelling (which are usually very minimal and resolve quickly. )
Better Dental Care is Our Mission
So you can smile with confidence
352 North 4th Street Laramie, WY 82072
402 E Custer St Laramie, WY 82072